Information about the Start of Greenpeace in Germany
The contents of this page handle the initiation processes of Greenpeace in Germany until 1981, in which I was significantly involved. I also became the first German Greenpeace member and sailed as the only German crew member on the first "Rainbow Warrior".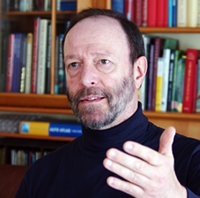 Gerhard Dunkel
Because of obviously existing interest, and in order to avoid possible inaccuracies in the narration of events, I decided to publish online the initial exchange of letters and some other still available documents.
After more than 30 years - when publishing these pages on 30 September 2010 - I assume that no "secrets" will be unveiled.
Depending on retrieval of more documents or information this page will be actualized from time to time.
Press:
"Neue Westfälische", Bielefeld (02 Oct 2010): Greenpeace - In Bielefeld fing alles an (pdf; 58 kB),
"Die Glocke", Gütersloh (21 Oct 2011): Interview to the Film 'Rainbow Warriors'.
Please refrain from asking for further interviews to the "Greenpeace" topic!
And: I do not speak for current activities of Greenpeace.
---
A. Approach: A.K.U. Vlotho | Association for sea mammals Bielefeld | Greenpeace Canada + Europe
The first Greenpeace office in Germany was opened in February 1980 in Bielefeld.

It was used for the coordination of the Greenpeace activity in Germany until the end of March 1981.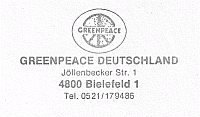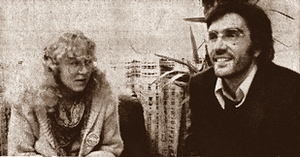 Claudia and William in the Bielefeld Greenpeace office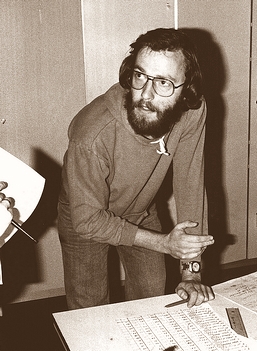 Gerhard at planning

» First circular letter - to all German environment protection initiatives (pdf; 445kB)
» Answer for interested - to those persons who wanted to support us (pdf; 314kB)